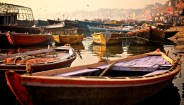 Nirmalya Dey will be leading a Dhrupad retreat in India annually. Dhrupad is the oldest form of Indian classical music. It is music and meditation, and is a pure form of Nada Yoga. Intensive Dhrupad retreats are designed to strengthen the practitioner's  home practice and elevate their musical understanding.
The first retreat will be held in India, in the city of Varanasi  starting on February 27, 2016  till March 8, 2016.
Space is limited, so do send in your expression of interest for planning purposes.